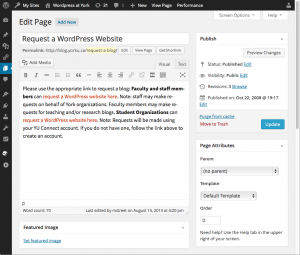 Welcome to blog.yorku.ca.  This service is for York University faculty members and departments who wish to make use of the WordPress web publishing system in a managed environment.  WordPress is an easy-to-use content management system that is suitable for small sites (up to 50 pages) and blogs which allow readers to comment on posts.  Our blog system supports all of the features of WordPress including:
UIT-managed WordPress installation with a controlled list of WordPress plugins and themes
Passport-York authentication for blog administrators
An integrated user database allows users to have access to multiple blogs
UIT support to help you customize a York-branded blog theme
Simple version control allows you to view or restore earlier versions of posts and pages.
Generation of RSS and ATOM feeds which can "push" WordPress headlines into other websites
What can't I do with mysite.blog.yorku.ca?
You will not be able to modify WordPress code or upload your own plugins or themes. This service is primarily for York-branded blogs.  If you require a specific theme or plugins, please contact helpdesk@yorku.ca. We'll do our best to meet all reasonable requests as long as they do not compromise the performance and security of our servers.
How can I manage users?
Site administrators can invite anyone with a York Passport York login to join their site as a contributor, writer, editor or administrator, By default WordPress sites can be viewed by anyone, but if required, you can restrict access to York faculty, staff and students.
Who is using this central WordPress service?
There are more than 300 academic, administrative and research groups publishing their websites with this service. Here are just a few:
How do I activate mysite.blog.yorku.ca?
If you would like to publish your website or blog using WordPress site, please complete the Registration Form.